World Team Championship 2017
Story by Sherif Harding - 13/03/17

---

ISG Round 3 - Day 2 results
Story by Sherif Harding - 19/02/17

ISG Round 3 - Day 1 results
Story by Sherif Harding - 18/02/17

ISG Round 2 - Day 2 results
Story by Sherif Harding - 12/02/17

ISG Round 2 - Day 1 results
Story by Sherif Harding - 11/02/17

ISG Round 1 - Day 2 results
Story by Sherif Harding - 05/02/17

ISG Round 1 - Day 1 results
Story by Sherif Harding - 04/02/17

---

ISG Qualification Round 1
Story by Sherif Harding - 07/01/17

---

Khomitsevich wins World Crown
Story by Sherif Harding - 20/03/16

---

Round 4 review- Assen
Story by Sherif Harding - 14/03/16

---

Round 3 review- Berlin
Story by Sherif Harding - 07/03/16

---

Round 2 review- Almaty
Story by Sherif Harding - 21/02/16

---

Russia take crown once more!
Story by Sherif Harding - 16/02/16

---

FIM European Championships...
Story by Sherif Harding - 11/02/16

---

World Team Champ preview
Story by Sherif Harding - 11/02/16

---

World Team Championships 2016
Story by Sherif Harding - 30/01/16

---

Koltakov is King of the World!
Story by Sherif Harding - 16/03/15

---

Koltakov closes in on world title
Story by Sherif Harding - 08/03/15




ISW returns after a hiatus!
Story by Sherif Harding - 06/03/15




The legend reigns in Krasnogorsk
Story by Sherif Harding - 01/02/15




---

FIM select the class of 2015!
Story by Sherif Harding - 21/01/15




---

  FIM Challenge CANCELLED!
Story by Sherif Harding - 20/01/15





---

  Qualification Round - Stromsund
Story by Sherif Harding - 17/01/15





---

Russian Final 1 - summary & results
Story by Sherif Harding - 28/12/14

---

Russian Super League results
Story by Sherif Harding - 14/12/14

A final farewell to POSA & Jouni
Story by Sherif Harding - 22/11/14

BREAKING: Events at Assen to end
Story by Sherif Harding - 17/10/14

---

Russian League fixtures 2015
Story by Sherif Harding - 17/10/14


---

International fixtures - 2015
Story by Sherif Harding - 05/10/14


---
Grzegorz Knapp poster download
Story by Sherif Harding - 23/09/14


We know how popular a rider Grzegorz was around the pits, so we have created a unique poster featuring the man himself, in action at Assen in 2013 - you can download this poster/wallpaper for free by simply clicking on the preview to the left. Note that it is rather large, so please be patient when downloading - we hope you enjoy this poster; please feel free to share the link to as many people as you like.

---
---
R.I.P Grzegorz Knapp
Story by Sherif Harding - 23/06/14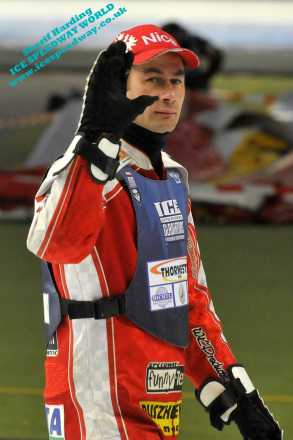 Less than a week after the tragic passing of Andrei Gavrilkin, ISW is extremely distressed to inform our readers of a second, most untimely death within the Ice Speedway family.
Poland's premier rider, Grzegorz Knapp, just 35 years old, was tragically killed whilst competing in a Dutch/Belgian Speedway League meeting held at the Heusden-Zolder track in Belgium. Grzegorz was riding for Lelystad Windmills at the time.
Grzegorz rose to prominence as part of the Under-21 Polish Speedway Team in the late 90's, and had been steadily increasing his reputation in Ice Speedway circles over the last five years with the staunch backing of Sanok promoter, Paweł Ruszkiewicz, competing extremely well in the FIM Ice Speedway Gladiators World Championship for the past four seasons.
Grzegorz also rode Speedway for Lublin, Gdansk, Rawicz and Grundzladz in the Polish League.
ISW pass on our most heartfelt condolences to Grzegorz' family and friends. He will be a great loss in the paddock next season.
**Ice Speedway Team Polska have announced that a National Blood Donation Foundation will be accepting any financial contributions to assist the family of Grzegorz at this difficult time – anybody can help

by clicking this link to the Team Polska article

.
---
---
ANDREI GAVRILKIN - An untimely obituary
Story by Sherif Harding - 17/06/14

It is with deep sadness, that ISW this morning learnt of the untimely death of young Russian rider, Andrei Gavrilkin.
We are not yet aware of the full details, but we do know that Andrei was involved in a car accident in the Saransk area.

Andrei was just three days short of his 24th birthday, and was seen as one of the most talented young riders amongst the Russian ranks.
He won the European Ice Speedway title in 2009, and was the runner-up in 2010.
Domestically, he raced for both Mordovia Saransk and more recently, the Samara team. He also won a hugely impressive three Cup of Russia titles in a row between 2012 - 2014.
However, there can perhaps be no greater testament to his talents than the fact that Andrei represented Russia internationally numerous times in his short career, in a Country that has access to a seemingly endless conveyor belt of amazing Ice Speedway stars.

The team at Ice Speedway World sends our deepest condolences to Andrei's family, friends and teammates.
---
---
A FEW MOMENTS WITH DIRK WERKMAN
Story by Sherif Harding - 07/04/14
He was one of the outstanding young riders who entertained us so much in the Roelof Thijs Bokaal, and now, the team at ISW has taken a few moments to catch up with the 21 year old Dutch rookie that is Dirk Werkman, and ask him about that day in Assen, and about Ice Speedway and life in general.
You can read this exclusive interview in full
by clicking this link
. If you enjoy this and our other interviews, please give sign up to our forum, support the website, and spread the word on Twitter and Facebook!
---
---