---

Grzegorz Knapp poster download
Story by Sherif Harding - 23/09/14

We know how popular a rider Grzegorz was around the pits, so we have created a unique poster featuring the man himself, in action at Assen in 2013 - you can download this poster/wallpaper for free below. Note that it is rather large, so please be patient when downloading - we hope you enjoy this poster; please feel free to share the link to as many people as you like.
---
R.I.P Grzegorz Knapp
Story by Sherif Harding - 23/06/14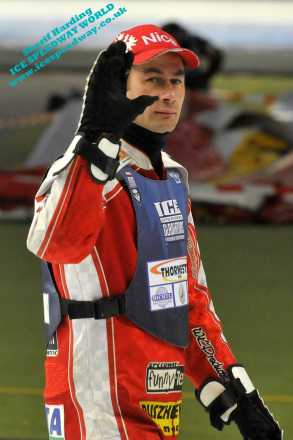 Less than a week after the tragic passing of Andrei Gavrilkin, ISW is extremely distressed to inform our readers of a second, most untimely death within the Ice Speedway family.
Poland's premier rider, Grzegorz Knapp, just 35 years old, was tragically killed whilst competing in a Dutch/Belgian Speedway League meeting held at the Heusden-Zolder track in Belgium. Grzegorz was riding for Lelystad Windmills at the time.
Grzegorz rose to prominence as part of the Under-21 Polish Speedway Team in the late 90's, and had been steadily increasing his reputation in Ice Speedway circles over the last five years with the staunch backing of Sanok promoter, Paweł Ruszkiewicz, competing extremely well in the FIM Ice Speedway Gladiators World Championship for the past four seasons.
Grzegorz also rode Speedway for Lublin, Gdansk, Rawicz and Grundzladz in the Polish League.
ISW pass on our most heartfelt condolences to Grzegorz' family and friends. He will be a great loss in the paddock next season.
**Ice Speedway Team Polska have announced that a National Blood Donation Foundation will be accepting any financial contributions to assist the family of Grzegorz at this difficult time – anybody can help

by clicking this link to the Team Polska article

.
---
---
ANDREI GAVRILKIN - An untimely obituary
Story by Sherif Harding - 17/06/14

It is with deep sadness, that ISW this morning learnt of the untimely death of young Russian rider, Andrei Gavrilkin.
We are not yet aware of the full details, but we do know that Andrei was involved in a car accident in the Saransk area.

Andrei was just three days short of his 24th birthday, and was seen as one of the most talented young riders amongst the Russian ranks.
He won the European Ice Speedway title in 2009, and was the runner-up in 2010.
Domestically, he raced for both Mordovia Saransk and more recently, the Samara team. He also won a hugely impressive three Cup of Russia titles in a row between 2012 - 2014.
However, there can perhaps be no greater testament to his talents than the fact that Andrei represented Russia internationally numerous times in his short career, in a Country that has access to a seemingly endless conveyor belt of amazing Ice Speedway stars.

The team at Ice Speedway World sends our deepest condolences to Andrei's family, friends and teammates.
---
---
WE MEET THE NEW FIM ICE SPEEDWAY RACE CO-ORDINATOR
Story by Sherif Harding - 01/06/14


Many Sports Governing Bodies have been subject to criticism by both fans and riders alike for not being in touch with what is needed and wanted in their respective Sports.
Obviously mindful of some of the fierce criticism received at the start of last season relating to the lack of qualification rounds, and therefore, ability to introduce new riders and Countries to expand the Ice Speedway brand, the FIM have taken the sensible decision to appoint long-time Finnish rider, and all-round good guy, Jouni Seppänen, to act as the key intermediary between their management and the riders.
The idea essentially being to forge much closer links between those that pay to compete and watch the Sport, with those who make the rules.
But is there more to this new role, and why have the FIM decided to act now? ISW caught up with Jouni to find out a little more...
SH - Congratulations on the appointment Jouni. Can you tell us exactly what the new role entails? What will be your main responsibilities?JS- Basically, I will be the key link between the event promoters and the FIM. At the races, I will then act as the main link between all parties - the riders, promoters/organisers and the FIM. I will also be available to help the Clerk of Course make the right decisions in the best interest of the riders.
The rest of the time, I will be busy trying to find new venues and organisers.
I suppose, in summary, you could say I have been brought in to improve the sport and both the quality and quantity of races.
SH - What difference do you believe you can make to the way Ice Speedway is organised, managed and promoted?
JS - I have good existing links to the organisers and riders, I am neutral, and I have quite good experience, therefore, together, I think we can more proactively work together for the benefit and growth of the Sport. I want to actually listen to the riders, organisers, promoters and spectators before making any decisions.
SH - Do you have any immediate ideas to change the current format of the Gladiators Series? Perhaps trying to spread the distribution of the series across more Countries?
JS - The first priority is to get the proper qualification system back! Without doubt, more riders need to have the opportunity to take part in FIM races - two qualifications and a Challenge round. Introducing more Countries to this Sport is also very important (SH - come and help us in the UK first mate!)
SH - Will you have any involvement/input with other FIM business? For example, will you sit on the FIM committee/board which discusses wider issues such as television rights?
JS - No, I won't be sitting on any specific committee, but I will have the freedom to take part in key meetings at the FIM where Ice Speedway is involved, so I have the opportunity to share my opinions with them directly.
SH - Finally, do you still intend to ride in the 2014/15 season or will you now retire to concentrate fully on this new role?
JS - Of couse, this will affect my own racing calendar, but I am definitely not going to retire! I will probably race the Finnish Championship final and a few open races. What I will say, is that I will take this opportunity very seriously and will work only for the good of the Sport.

...and for what its worth, we at ISW expect Jouni to do just that. Whilst improvements may take time to filter through the system, we feel that the FIM have made an excellent decision here - in addition, Jouni has stepped up and decided to dedicate his time and efforts to ensure that this fabulous Sport reaches out to more Countries, thus creating more events, riders and fans - let us not forget, without those we have no Sport.
ISW intends to catch up with Jouni throughout the new season and get updates on any new proposals/ideas, but, in the meantime, we wish him the very best of luck and thank him on behalf of all Ice Speedway fans.
For those of you who haven't yet read our earlier rider interview with Jouni, you can check it out by clicking this link.
---
---
A FEW MOMENTS WITH DIRK WERKMAN
Story by Sherif Harding - 07/04/14
He was one of the outstanding young riders who entertained us so much in the Roelof Thijs Bokaal, and now, the team at ISW has taken a few moments to catch up with the 21 year old Dutch rookie that is Dirk Werkman, and ask him about that day in Assen, and about Ice Speedway and life in general.
You can read this exclusive interview in full
by clicking this link
. If you enjoy this and our other interviews, please give sign up to our forum, support the website, and spread the word on Twitter and Facebook!
---
---